Info:
First click may open some ads. We know ads can be a pain, but they are our only way to maintain the server. Your patience is highly appreciated. Thank You!
How to Watch : All Movies and TV Show have embeds, just press Play in the middle of the video. If the main embed "Does not Work" or it was "Removed" you need to click "Report" and send us a note with the problem. We will try to re-upload or fix the problem as soon as possible.
Hunting ISIS 1x3
Episode 3
Itching for a fight, PJ transfers to an offensive unit in Syria where he's assigned to liberate the strategic ISIS-held town of Al-Shaddadi. He befriends several new Westerners and forms a special bond with Levi, a young jokester from Colorado whom he takes under his wing. In Iraq, medics Pete and Derek get dangerously close to the frontlines during a battle to push ISIS from a town outside their urban stronghold of Mosul. As each of the volunteers take their next steps, bonds of brotherhood deepen and more light is shed on what drew these men to the war.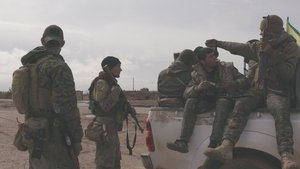 Jun. 05, 2018