Info: If the first embed link is not working please select " Multiple Embed Servers ". A new player will load and you can select from different servers by clicking the blue button on top right corner of the player.
The InBESTigators: 1x8
The Case of the Perplexing Painting / The Case of the Turtle Thief
Someone with great aim has ruined Esther's painting. Later, the Inbestigators need to move fast — because there's a turtle thief on the loose!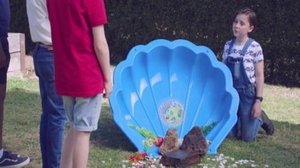 Jun. 21, 2019
1 - 1

1 - 2

1 - 3

1 - 4

1 - 5

1 - 6

1 - 7

1 - 8

1 - 9

1 - 10